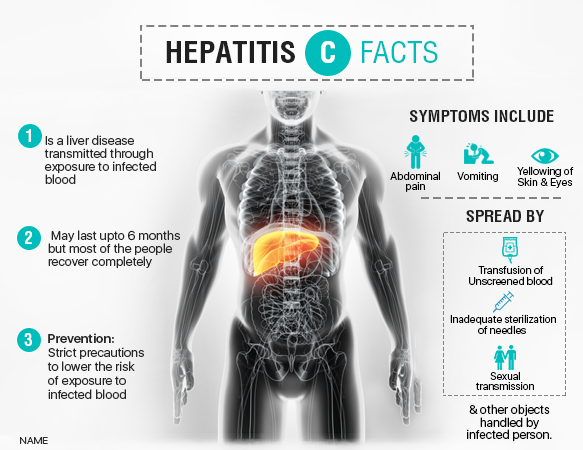 Hepatitis C is a type of liver disease caused by hepatitis C virus (HCV). The infection can be both acute and chronic and the severity can range from mild illness to critical lifelong ailment. In critical cases, the virus can give rise to other liver-related severe infections such as liver cirrhosis and liver cancer. This virus mainly spreads from exposure to infected blood and blood products via use of infected or unsterilized injections and other medical equipments, the transfusion of unscreened blood and blood products, from mother to the infant during birth (perinatal transmission) or through sexual transmission. However, the virus cannot spread through direct content, contaminated food or water.
What are the Symptoms of Hepatitis C?
Hepatitis C is usually asymptomatic during the initial phase. However, acute hepatitis C can show following symptoms:
Fatigue, Nausea & vomiting
Pain or discomfort in abdomen, especially in the right area beneath lower ribs
Grey-colored stool
Loss of appetite
Dark urine
Jaundice – appears in only 20-30% of the infected population
How is Hepatitis C diagnosed?
For those suffering from chronic Hepatitis C, a number of serological tests are available to diagnose the severity of damage. The serological test screens for the presence of anti-HCV antibodies. If the test is positive, further tests are done to detect HCV RNA in blood. In the cases of chronic Hepatitis C, it is important to get the severity of the liver damage diagnosed. The degree of damage together with virus genotype is the deciding factor for further treatments. Book an appointment with one of the best liver surgeons in India, Dr. Vivek Vij.
What is the treatment?
The treatment is always symptomatic and patients are advised to avoid alcohol or drugs that can further damage the liver. However, hospitalization is recommended if the infection gets chronic. Latest treatments include anti-viral drugs (DAA) which can cure most of the cases of HCV infection as the treatment is shorter (usually 12 weeks) and safer. In cases of cirrhosis with or without superimposed liver cancer, liver transplantation may be required.