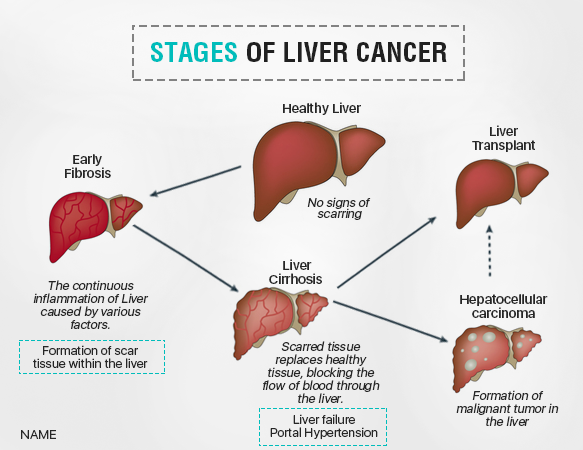 Liver cancer (also known as hepatocellular carcinoma) is one of the most occurring cancers in the world. Over ninety percent of these cancers develop in liver and are fatal in nature. It is important to get the tumor diagnosed and treated in time as it can rapidly progress to death. Caused by various factors such as chronic viral hepatitis B and C, prevailing liver cirrhosis, alcoholic liver diseases, alfatoxins, anabolic steroids, hemochromatosis, oral contraceptive pills etc., these cancer cells can also spread to other parts of the liver as well as to the organs outside liver.
What are the Symptoms of Liver Cancer?
There are no early symptoms of liver cancer. However, as the tumor grows, patients may experience:
Critical pain in the right/upper side of the abdomen
Loss of appetite (no feeling of hunger)
Unexplained weight loss
Wasting (cachexia)
Swelling in feet, legs and abdomen



Fluid accumulation in abdomen (ascites)
Yellowing of the eyes and skin (jaundice).
How is Liver Cancer diagnosed?
Medical examination is required to confirm the growth of tumor in liver. Your doctors will advice you a blood test to check for the elevated levels of alfa-fetoprotein (AFP) or des-gamma-carboxy prothrombin. CT scan (Triple phase) and MRI is required for complete tumor analysis and for spotting the location to the cancer. If necessary, Liver biopsy may be performed to confirm the presence of liver cancer.
What is the treatment?
The treatment depends upon the location, size and stage of tumor. The available treatment options are local ablation (with ethanol or radiofrequency) to kill cancer cells in the liver without any surgery and liver surgery (tumor removal). For patients with advanced cirrhosis and non-removable tumors, liver transplantation and chemo & radiotherapy is required. Book your appointment with Dr. Vivek Vij, one of the best liver surgeons in India.